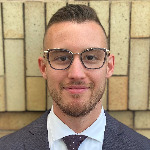 Brendan Bertig works as the Staff Attorney for the Commission, where he researches legal questions for, tracks legislation related to, and drafts reports on various Commission initiatives. A member of the LGBTQ community, Brendan is dedicated to furthering the Commission's goal of eliminating bias in the Pennsylvania justice system.
Before joining the Commission as a staff member, Brendan interned for a number of governmental and non-profit organizations in law school. After clerking for the Allegheny County Public Defender's Office his 1L summer, he completed an externship with Fair Shake Environmental Legal Services in the fall of his 2L year. That spring, he clerked for United States Senator Dick Durbin in Washington D.C., drafting legislation and preparing memoranda for the Senator's Judiciary Committee staff. After his time in D.C., Brendan returned to Pittsburgh to clerk with JFCS Immigration Legal Services as an Allegheny County Bar Foundation Summer Fellow. He also volunteered for Reed Smith's Name Change Pro Bono Project during his 3L year, assisting indigent transgender individuals in Allegheny County as they navigated the name change process.
Brendan graduated cum laude from the University of Pittsburgh School of Law in 2020. At Pitt, Brendan received CALI Awards in Legal Writing and Environmental Justice Law Seminar. He also served as a Pitt Law Ambassador and member of the school's Moot Court Board. Prior to law school, Brendan attended Duquesne University. He graduated summa cum laude in 2017 with a B.A. in Political Science and received the Top Student Award for the school's Law & Politics concentration. In his free time, Brendan enjoys hiking, reading, and attending concerts.